Latest News:
1 Nov 2021, Quarantine-Free Travel for 46 countries Coming into Thailand.
Read more...
1 Nov 2021, Exhibitions Now Allowed In Thailand.
Now into its 13th successful year, Asia Palm Oil Conference (APOC) 2024 hosted by the Thai Palm Oil & Oil Palm Association has established itself as the preferred annual meeting point for Palm oil industry players in Thailand and South-East Asia. It remains the dedicated conference with a comprehensive focus on trade, investment and technology, and provides excellent partnership opportunities with international players.
Reserve Your Seat
APOC 2024 Call For Papers
2022 Post Show Report
Asia Palm Oil Conference (APOC) 2024 Coming Soon!
What's New in 2024 !
2 Separate days for 2 different streams in the palm oil industry
Production, Refining and Diversification
Trade & Investment
Renewable Energy
Technology Focus
Site Tours – Biogas System in Palm Oil Mill
Networking Luncheons – Held during the lunch timings, this is an additional networking opportunity for you to meet up with speakers, local clients and traders.
FREE VIP Pass to PALMEX Thailand 2024 – Visit PALMEX Thailand 2024, Thailand's largest palm oil technology exhibition (Held alongside APOC 2024), a good opportunity for you to catch up on the latest in the technological forefront. FREE VIP admission for conference delegates.
Why Thailand?
Thailand, currently ranked #3 in the world for CPO is a potential and viable market for palm oil technology companies
as the industry is currently honing new palm oil technologies and equipment to help spur its production further!
Thailand's Current Status As The World's #3 Producer Of Palm Oil
The recent rise of Thailand's ranking as the world's #3 largest producer of palm oil opened up more opportunities for the palm oil process industries and also all related supporting industries to help cope with the huge demand of palm oil. Thailand currently sits as one of the top 3 in the world for CPO (Crude Palm Oil) with estimated production of more than 1.7 Million tonnes of CPO expected this year.
Hosted By
Thai Oil Palm And Palm Oil Association
Official Media By

Asia Palm Oil Magazine
Endorsed And Supported By
Thai Palm Oil Refinery Association

Thai Palm Oil Crushing Mill Association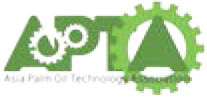 Asia Palm Oil Technology Association

Thai Biodiesel Producer Association
Some Great Reviews From Our Past Attendees
"A great event to network with the professionals in the palm oil industry!"
"We found out more about the palm oil industry during this event!"
"We would definitely be back for the next session!"